Task #2683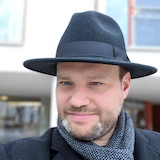 Target version:
Team - Q1/2019
---
Description
Für die Messestände in 2019 benötigen wir gedruckte Poster. Die Vorlagen vom Stiftungstag im November in A0 würden sich super eignen - können wir die irgendwo hochladen und ein paar Exemplare auch drucken lassen zum Versand?
History
Status changed from New to In Progress
Uwe hat mich angerufen und kümmert sich darum - danke Uwe!
Die Veranstalter der Chemnitzer-LinuxTagen haben schon ein Poster für uns gemacht (wie für alle andere Projekte, die dabei sind). Ich werde es zurück nach München bringen. Uwe, hast Du was auch schon drucken lassen?
Status changed from In Progress to Closed
Uwe hat 5x "Mach mit"-Poster drucken lassen. Die sind bei mir angekommen und sehen super aus. Wir reden über weitere Designs beim Treffen in Essen.
Category set to PR-Material