Task #2438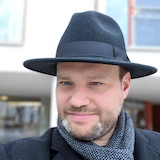 End of the year Giving Guides
Target version:
Team - Q4/2019
---
---
History
Due date set to 2018-09-01
Status changed from New to In Progress
I have made a research, but I wasn't able to find similar pages on the web. I suggest scheduling a fundraising-related announcement to distribute to media (only to "team" email address) in September, and to reiterate in November. Moving the deadline to early September 2018.
Target version changed from Pool to Q4/2018
Due date changed from 2018-09-01 to 2019-09-02
Target version changed from Q4/2018 to Q3/2019
Nothing similar has been published in 2018, so I wonder if the article was a one off which has not been replicated.
Due date changed from 2019-09-02 to 2019-11-25
Target version changed from Q3/2019 to Q4/2019
Searched further. This is a BoingBoing specific project running since 2013. The list is published by Cory Doctorow, BoingBoing co-founder and EFF member, who asks for suggestions to other BoingBoing forum members by adding a comment to his forum post (and then in some cases publishes a post on BoingBoing blog like in 2017). There isn't anything similar on the entire Internet, so keeping a ticket open for something we cannot achieve seems overkill. I have changed the date to the end of November, when is probably the best time to send a message to cory@boingboing.net.